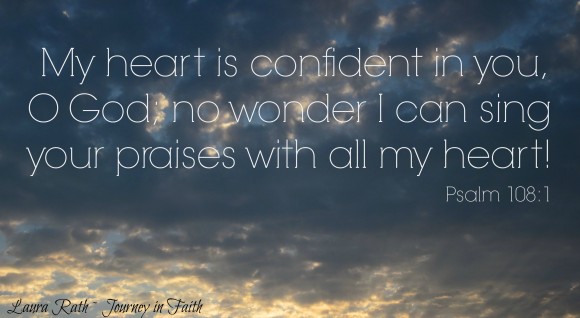 All too often, I have trouble praising God in the midst of unpleasant situations. I'm full of praise when I see His work in my life, and I praise Him for the beauty He creates around me. But it's those times of trials where I struggle.
Praise was my One Word for 2013. So, you'd think I'd have this praise thing worked out. But, I'm still working on it. I think I'll always be working on it because it's hard to put myself aside—how I feel and what I'm thinking—and start praising.
It takes a conscious effort to praise God at all times—especially times I don't feel like it, when I'm angry or complaining…times when I'm overwhelmed by life…and times I'm starting to doubt that everything will work out.
I have to think about it and remind myself (or make myself) start praising Him. Sometimes it's praise just for Who He is, and praise because I know in His time, He will act.
Praise because I know He's at work, even when I can't see it.
I like this verse from Psalm 108…
My heart is confident in you, O God;
no wonder I can sing your praises with all my heart! Psalm 108:1 NLT
It reminds me that when I'm confident (full of conviction, certain; trustful) in God, I can praise Him first—before seeing Him act—because I know without a doubt He is with me. He sees me and hears me.
He knows what I'm going through at every given moment…because Jesus is walking along side me.
And for that I can praise Him…no matter what I'm going through.