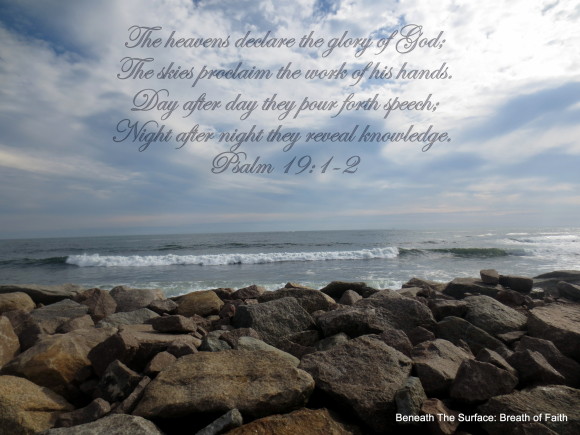 Raising my voice, or pressing the keypad seems a bit more accurate, with you my 5 Minutes for Faith Friends, to share 5 Thanksgivings today. So, whatever you want to call the good things that come your way, that sometimes get taken take for granted, missed in the bustle of the day; whether you see them as gifts, blessings or graces- acknowledge them.
I am convinced our God not only loves to gift us daily with surprises along the way, but that He is uniquely creative in his ability to minister powerfully to our deepest needs for beauty, rest, peace and faith. I think when we enjoy these special presents from Him, it brings Him pleasure. He wows, us and we are wowed beyond the biggest wows we can imagine!
Here's my 5 :
1. The Ocean, walking along the shore, living @ 3 minutes from the beach, the sound of the sea, smell and feel of the air, the way the sky, sea and earth meet together right here.
2. Marriage, the impossibility and imperfection of two people so different, and how God orchestrates possibility and perfection, a holy transforming union, between one man and one woman – for His glory.
3. Dishes and Birds, I wash dishes while watching the Sparrows at the feeder and birdbath within my sink's view. I never really enjoyed doing dishes, but honestly…how God takes the mundane moments and makes them magical, is mystery to me. Because, really, when you watch the sparrows and see Jesus, dish-washing really is a joy. Can't believe just I wrote that.
4. Beauty,  in His Word, in His creation- His beauty is everywhere, and it restores the soul, daily. We only need to stay awake to it!
5. Peace, I am thankful for His peace which passes all understanding and is so evident in the trials I am undergoing. His presence is promised and so apparent to me in the core of peace I have in the face of adversity. 

I loved Deb's idea of naming  simply 5 Thanksgivings a day, so much that I am keeping a special Journal for November listing them.
What 5 things are you thankful for today?