Be sure to read to the end of the post for the giveaway details. You don't want to miss entering for a chance to win!
"Those persons who know the deep peace of God,
the unfathomable peace that passeth all understanding,
are always men and women of much prayer." R.A. Torrey

Their house was an extension of home. A peace-filled place where I could easily slip in to their predictable everyday like I belonged. Because they made sure I did.
Routines often brought them to their matching rosewood rockers. Her work-softened hands were always busy, even while sitting. And she would rock in tune to what my Great-Grandpa was singing/humming across the way. If I leaned in close, I could hear her harmonizing hum. Even if Grandpa didn't say it out loud, I could see by the kind lines on his face, she was the highlight to his day.
Grandma V would grace that rocker with intention. It's been decades and I can still see the items always within reach: Her black KJV Bible, Yarn and needles, and the radio (she loved baseball). And you could always tell which one was used the most.
When I was young, I would secretly quiz her. Sitting near her feet while she clicked away on crochet, I would crack open her Bible and read a phrase out loud. And wait…more times than not, she would quote the words following. Then look up startled and ask me where that was found. Friends, I don't think she knew she had it memorized…the familiar simply percolated up from within.
You see, she would fill herself up with His words each day. Every day. No matter the day. There was always time for her Bible. And it showed in everything else she did.
Grandma V brought her Savior up in any conversation. Crazy how it always felt appropriate. Comfortable.
While off at Bible college, I came back and stayed with her a weekend. And I was so excited to share what I was learning in my Bible classes. She smiled wide, just like I had expected, and yet, her reply made me re-think all I had perceived.
"I'm so glad, Nikki. I love seeing His Word come alive, but tell me…" She tugged on the white yarn resting in her lap. "How's your prayer life? I love reading His letters, but it's talking to Him that gets me through my day. It's our conversation that fills me up." And she quoted a verse word-for-word, then said, "I think that's in Philippians."
Looking back, I see it now. When she walked to work, she prayed the whole 2+ miles. And I heard her often–these brief utterances made to Him like He was standing right next to her. Friends, she talked to Him while crocheting, cleaning, cooking…. She spent time with her Savior. And she lived like He was always in the room. Because to her, He was.
No wonder He always felt appropriate.
My Grandma V may be known for many things. Her sticky buns. Crustless pumpkin pies. Her mad organ playing skills…
But anyone that knew her would tell you: She loved Jesus.
For He's what filled her soul.
And I'd love to be just like her.
It's a good thing she gave me her ultimate recipe:
Don't worry about anything; instead, pray about everything. Tell God what you need, and thank Him for all He has done. (Philippians 4:6)
The giveaway:
We are so excited to offer this beautiful "Feed Your Soul" necklace from Lisa Leonard.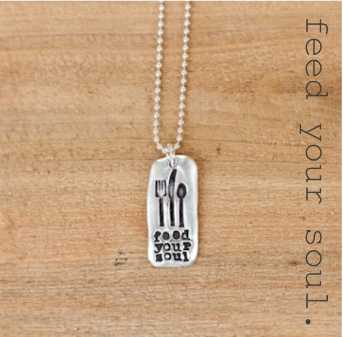 *     *     *
How to enter:
Leave a comment on this post, sharing how you feed your soul. (MANDATORY ENTRY)
For additional entries (1 per action done):
Visit Lisa Leonard Online and leave a comment telling us which piece of jewelry you love!
Subscribe to 5 Minutes for Faith (and tell us how you do).
Tweet about the giveaway!
This giveaway will remain open until 9PM (Central Time) on Wednesday, May 15th. A winner will be chosen using Random.org. All winners for all giveaways in this series will be notified by email and announced at 5 Minutes for Faith on Friday, May 17th. Please make sure your email address appears in the comments. (U.S. & Canada entries only.)