Every February it hits me. The mid-winter slump.
Maybe you call it cabin fever or the winter blahs.
Whatever you call it makes us feel the same: unmotivated, a bit down, sleepy and dreaming of spring.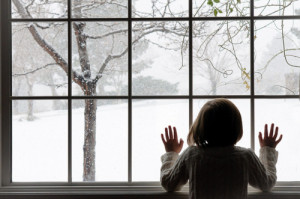 When the slump hits, I start browsing websites for Florida, the Bahamas, Hawaii…I plan a winter vacation knowing full well that I will not be walking on warm beaches or attending a luau.
I'm not going to those places because as a nursing student it's not in the monetary or time budget right now. But it's nice to think I might someday.
And so winter drags on.
Then one day, warm breezes blow and crocuses push through the last of the snow. Winter ends and spring gorgeously blooms.
Day dreams of warm sand and ocean breezes fade as I eagerly watch for the first robin of spring. Florida and Hawaii are long forgotten.
***
Sometimes it's hard to believe that seasons end when we're in the midst of hard times. We may face health problems, financial struggles or relationship strains. Anxiety, fear and worry may overwhelm us and no end is in sight.
But all seasons end—even the harshest of winters.
Think about times of struggle in your past. You got through it and it ended. You came out on the other side—sometimes a bit battered and bruised. Hopefully, lessons were learned, character was strengthened and blessings were acknowledged.
John 16:33 tells us, "I have said these things to you, that in me you may have peace. In the world you will have tribulation. But take heart; I have overcome the world."
When I was younger I thought I could avoid life struggles. I wanted life to be easy. But God's word tells us that tribulation will be a part of our lives.
We can find peace in a God who has overcome the world.
So if you are in a season of tribulation that seems never ending, remember that God has assured us that he will be with us and we can rest in Him.
Blessings and peace to you in whatever season you are walking through.
~Yolanda
Now it's time for Faith 'N Friends Blog Hope
Top Posts from Week #5
Trusting Him, Resting in the Mystery by Beth Willis Miller
God's Extravagant Love by Blue Cotton Memory
Boast in the Lord by Linda @ Being Woven
Thanks to everyone to shared a link!
Welcome to the Faith 'N Friends Blog Hop #6
We're so glad you're here!
This is a place to share faith, make friends, and have fun.
If you've never done a blog hop before they are super easy.
Scroll to the bottom of the list and click the Add your link button.
Add the Faith 'N Friends button to your post or sidebar.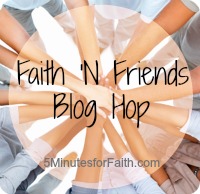 [inlinkz_linkup id=500776 mode=1]