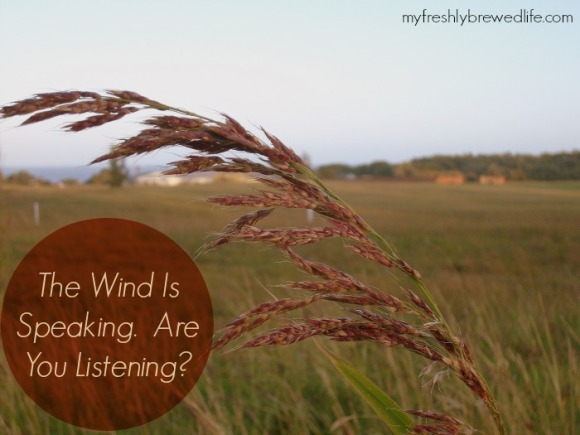 Seasons change. If I had it my way, I would forever live during Spring, where there is new birth and the promise of the warmth of Summer. But with each passing day, I see signs of Fall, as the leaves change color and are making their way to my driveway in record number. And although I don't mind the Fall, I will turn a corner and walk straight into Winter. And with Winter comes storms. And when the storms come, you will find me inside, under a blanket, sipping a hot cup of cocoa and enjoying a warm fire. I will do everything within my power to avoid a storm.
But when spiritual storms come, there is no where to hide.
The storms in life can have their way with me at times. Invading a seemingly calm and peaceful atmosphere, they come in with a vengeance, often catching me off guard, although I've done everything I know to be prepared. With the storms often come severe winds, winds that threaten to knock me off my feet. I dig my heels in. This wind will not take me.
As recent challenges in life have kept me on my knees, I find myself leaning into the wind, listening for it's wisdom and longing to be swept away with it. One day recently found me crying out to God for breakthrough in my situation, and I heard Him say to my spirit, "What if the wind could speak, what would it say to you?". I was intrigued. Although I haven't been met with much wind in the sunny, California weather I am still experiencing, I've been dialoguing with Jesus about the wind. I've been asking Him to make me brave, so that I could face it head on, and hear what it has to say.
You see, I sometimes forget that when a storm comes, that God is still there in the midst of it. And even though the wind threatens to knock me off my feet, He is there, in the wind, and desires to speak to me. So today, I am pressing in and asking God to open my ears so that I could hear what the wind has to say.
Today, as I lean into the wind, I hear,
Fear Not.
Don't be afraid, for I am with you. Don't be discouraged, for I am your God. I will strengthen you and help you. I will hold you up with my victorious right hand. (Isaiah 41:10 NLT)
Be Still
Be still, and know that I am God! (Psalm 46:10a NLT)
I Will Provide.
Look at the birds. They don't plant or harvest or store food in barns, for your heavenly Father feeds them. And aren't you far more valuable to him than they are? (Matthew 6:26 NLT)
Friends, I don't know if you've been bracing yourself up against a wall as the winds swirls around you. Might I suggest that you lean into the wind and allow it to speak to your heart?
If the wind could speak, what would it say to you?