I love August. This month usually breezes past us, which is good since those fluttering calendar pages are about the only breeze many of us get. But along with the warm temperatures, August also gives us a glimpse of the fall.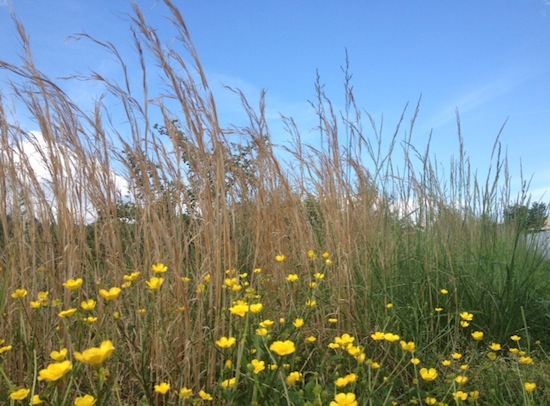 I can hear the marching band practicing at the local high school. The evenings turn cooler. The mountains here in Virginia are lush and green and the weedy undergrowth is fading into fall colors. I enjoy these simple pleasures, and then my mind wanders.
Autumn deadlines, family responsibilities, travel schedules, busy college football weekends, etc.
Like clouds before a summer thunderstorm, these concerns accumulate and darken my mind. Before long I'm fretting and dreading, longing for the beginning of summer when my schedule was lighter. Then I'm grumbling and complaining, and forgetting an important lesson from the Apostle Paul.

He learned to be content—trained his mind to come back to a state of peacefulness—because it didn't come naturally to him. And it doesn't come naturally to us, especially with our frantic schedules and so many troubling world events.
As we say goodbye to the long, lazy days of August and we prepare for hectic schedules and new routines, let's remember these three tips for weathering the end-of-summer blues.
Spot the storm clouds of discontent
We may not always see them coming, but we sure know when they settle over us. For me, it begins with my mind racing with more "to-do's" than I can keep up with. Before long I'm forgetting things, snapping at people, feeling overwhelmed, etc.
When I feel my stress level rising, I give myself a quick time-out and
Rain down concerns to the Lord
I confess the stress I'm feeling and tell Him how life is overwhelming me right now. I then grab a notepad and begin writing down the things I need to do. The simple act of making a list somehow frees my brain from having to keep up with so many tasks. Because I'm a visual person, seeing a list of tasks makes them seem less ominous.
Then I pray, mentally releasing my to-do list and lifting up those who are suffering. I acknowledge that I need His guidance and His strength to make it through the day, and I
Let His promises shine on the situation
I remember promises from His Word that remind me that He's the One who's ultimately in control (Prov 19:21), that He will never leave me (Heb 13:5b), and that I can do all things through Him (Phil 4:13).
Speaking these promises aloud is not only a confession of my faith, but also an encouragement to my soul. So instead of grumbling and complaining, I speak words that bring life and perspective. Words that shine His light and bring a refreshing breeze of His Spirit.