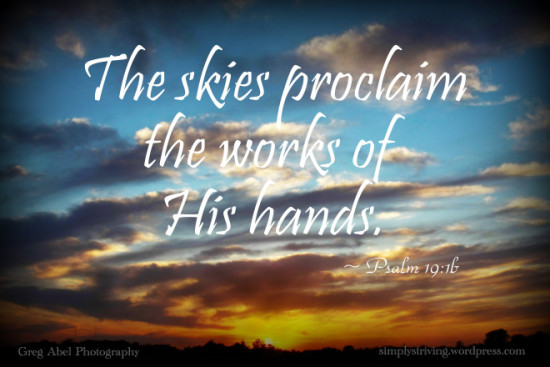 The sun enters gracefully, allowing the crescent moon to descend in glorious splendor. Its slender, sickle silhouette dances over the treetops until it retreats in peaceful slumber. One by one, the stars follow suit as they blink farewell, allowing sun's rays to burst in fortissimo as it makes its crescendo of praise.

And I'm captivated. Simply mesmerized at how the colors radiate and claim their space in His majesty. It never grow old. Each day portrays a new sonnet for I'm convinced not one sunrise is exactly the same with the way the trees sway in unison, keeping time for each songbird as they make their daily début.
Then I think…the God who orchestrated all of this with scientific precision…is captivated by the thought of me.
Me…
David says what I'm thinking best:
"I look up at Your macro-skies, dark and enormous,
Your handmade sky-jewelry,
Moon and starts mounted in their settings.
Then I look at my micro-self and wonder,
Why do You bother with us?
Why take a second look our way?"
Psalm 8:3-4~ The Message
Doesn't matter how I look at it, it's never going to make sense. I haven't much to offer and yet He's offered me everything.
Kathleen Norris accepts the same realization in The Cloister Walk when she says "I can't imagine why God would want me, of all people, as an offering. But if God is foolish enough to take me as I am, I guess I'd better do it."
And so I do. Oh how I hope and pray you do as well.
Friends, today, let's join in on the praise. He's already set the perfect stage. Let's claim our space on it.
So when the morning dove coos its thanks, I'll join in and offer my humble appreciation. When the trees sway slightly and the sun finds my forehead, I'll linger long, soaking in His goodness, allowing Him to permeate me.
And when I'm exhausted by lunch time and about to lose my cool over the crusty floors, I'll blast my playlist and grab the broom, my makeshift microphone, for an impromptu praise party. The kids are bound to join in.
Then maybe when the bedtime routine doesn't go as planned, I'll laugh along at the day and let joy shine through me. Because who doesn't want another 5 minute encore of His glory.
Friends, no matter what the day throws my way, I'll strive to make my presence known in the grand scheme of praise.
Because He told His Son to come for me just as sure as He made the sun shine upon me.
And I'm captivated by the very thought of Him…
How about you, friend? How will you join in on the crescendo of praise today? I'd love to hear.