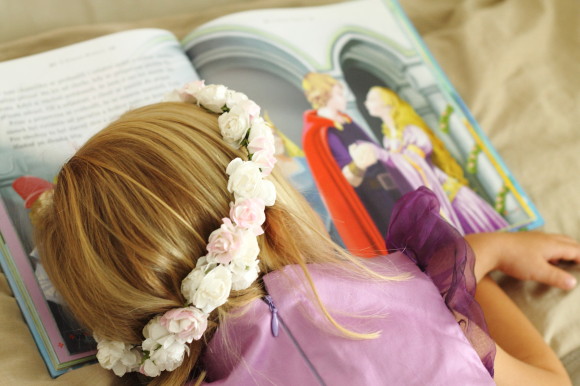 For we walk by faith, not by sight. ~ 2 Corinthians 5:7
Recently, I listened to a friend share with me about an ongoing series of trials that seemed to have the family under siege. She could not  perceive the good that God might be working in the very painful, not so pretty realities surrounding her life in the current season. I get it. I'm still getting it. How often do circumstances arise with a fairy Godmother in tow, ready to make everything perfect for us in every way?
We are Princesses, but the Prince has a very specific agenda in mind with regard to our own fairy tale endings. He is working all things together for good, but often He uses the not-so-good, as a means to His ends.
I know the only real happy ending is the one that starts in manger and ends with a cross.
Like our lives, sometimes, the Cross does not look like a happy ending in time. Standing on the timeline alone, apart from any forward or backward perspective at all, it looks bad.
But the reality of the Cross is not what it seems by mere human or finite perception. It is indeed, much more.
It is…
A mangled body,
shameful sight,
dreadful tragedy,
heart wrenching plight.
For His anger lasts only a moment,
      but his favor lasts a lifetime;
weeping may stay for the night,
      but rejoicing comes in the morning. ~Psalm 30:5
His broken body brings wholeness to many.
The shameful sight
exchanges our filthy rags,
for garments of white.
This tragedy in time brings eternity to the here and now,
Heavenly Kingdom – this holy ground.
His purpose revealed in the shadow of the Cross,
His victory on earth,
His sole purpose and plight.
Hearts broken redeemed-
with the Son of God's righteous fight.
It's easy to lose perspective when we are dealing with the ups and downs of life. It's hard to see the forest for the trees, too.
Therefore, since we are surrounded by such a great cloud of witnesses, let us throw off everything that hinders and the sin that so easily entangles…
That's why daily, we set our eyes upon the savior. Not presuming that we are all set. Not trusting in yesterdays or last weeks grace or blessing. Daily we set our hearts and minds on the one tree of Calvary, that we might gain heavenly perspective and not lose heart.
And let us run with perseverance the race marked out for us, fixing our eyes on Jesus, the pioneer and perfecter of faith. For the joy set before him he endured the cross, scorning its shame, and sat down at the right hand of the throne of God. Consider him who endured such opposition from sinners, so that you will not grow weary and lose heart. ~Hebrews 12:1-3