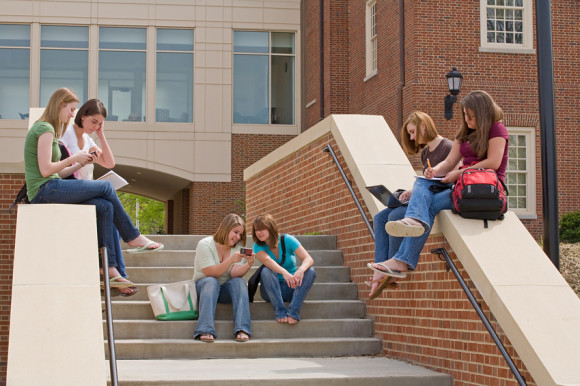 I remember as a teenager having to program the VCR* for my parents. It was new and tricky for them, but came naturally for me.
Today, as a parent, I'm now on the other side with social media. It seems every day there is a new app for yet another way to keep in touch. I find it overwhelming, but for the teens, and even much younger kids, downloading and setting up profiles comes naturally.
Like it or not, life has changed, and to keep up and protect our kids, we need to be aware of what they are doing online.
I'm not saying all social media is bad. In fact, when used wisely, it can be good. It helps us keep in touch with family and friends. It's a way to keep up with the news, find new and interesting articles, and explore new hobbies. Best of all, it can be used to share the Good News of Jesus.
However, even when used with the best of intentions, it is easy to get sucked into a vortex of comparing and trying to keep up with others, and we get caught up in finding our identities in what others think, instead of what God thinks.
Whether for adults or the younger generation—it's a dangerous game.
I remember how hard growing up was…the girl dramas, peer pressure, and the demands of school.
These issues still exist today, only they are now magnified and multiplied through the use of social media.
You've probably heard the tragic news stories of what cyber-bullying does. I'm not trying to make a point about that—it exists. We know that.
But before it even gets to that point, there's the entry into the social media world. And the same problems exist for kids as do for adults—becoming consumed by how many "likes" and "followers" they have…and what they can, and might, do to get more.
It takes hardly any time at all to get in over their heads, unsure of how to get out.
Parents, I am not suggesting our kids have no electronics or access to social media.
But what I am encouraging is for all of us to take the time to know what they are doing online.
Research the apps that are new to you. Know their passwords for occasional checks on their accounts. And be wary of closed doors and hidden screens when you walk by.
The news stories of online sexual predators and cyber-bullying terrify me. Maybe they do you too.
We can't protect our kids every minute of the day. But where we can protect them, they deserve our full attention.
We love our children and whether they agree or not, they need our guidance and protection.
*(For the younger generation who may not know, VCR stands for videocassette recorder, and yes, it is a thing of the past.)