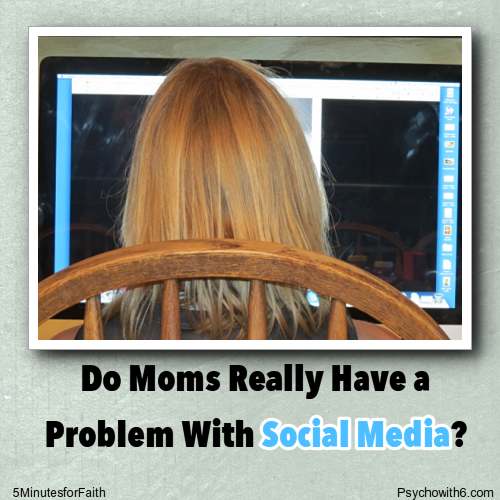 I sometimes wonder if this picture is how my children will remember me: my back to them, staring at the computer screen, saying, "Just a minute" for the fifth time in a row.
Is my love for everything internet causing me to neglect my children? I was so disturbed by this idea that after reading Not Now Darling, Mummy's Tweeting, I was ready to unplug and exchange my smart phone for a dumb one. The article suggested that ignoring your kids in favor of a screen damaged their self-esteem.
How many times had I done that? I was clearly neglecting my children and I was overcome with guilt. My knee-jerk reaction was to follow Jesus' directive in Matthew 5:30:
And if your right hand causes you to stumble, cut it off and throw it away.
Social media was causing me to stumble, no question. If I wasn't reading, connecting, and blogging online, I reasoned, I would be a much better mother. I imagined what I could do with and for my family with the time reclaimed from online pursuits.
I would just cut it off. When I found the report of a guy who went offline for a year, I couldn't wait to hear what a difference it had made for him. Even though he was single with no children, I knew he could be a mentor for me of sorts. If Paul could do it, so could I!
But while Paul at first noticed many positive results of going offline, they weren't long-lasting:
By late 2012, I'd learned how to make a new style of wrong choices off the internet. I abandoned my positive offline habits, and discovered new offline vices.
As I reflected on his experience, I realized that social media wasn't making me a bad mother just as food couldn't make someone unclean (Matthew 15:11). In fact, I had ignored my children for the sake of many things that didn't involve the internet! Blaming social media for my parental neglect was like blaming the refrigerator for weight gain. The problem seemed to be my own selfishness.
The solution was to spend more time focused on my kids. Wasn't it? I began thinking about my childhood. My mother didn't have social media, but she was very social. I recall being shooed away repeatedly when she was visiting. While I never liked it, I am none the worse for it, because I learned that I wasn't the center of the universe. If my mom had read an article about how her socializing was parental neglect, she wouldn't have given it a second thought. Moms needed time away from children's demands, period.
Do moms really have a problem with social media? I only know that parents can neglect their children with or without it. And what constitutes neglect is hard to define. Schedules or time limits and being open to my husband's and the Holy Spirit's leading on the issue are how I choose to cope.
What do you think?