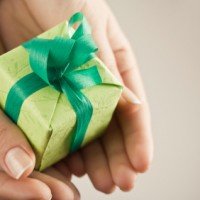 I love to clean things out — closets, cupboards, the pantry, you name it. I love the feeling that comes from getting rid of clutter. (Our local Salvation Army knows our name well; it seems like I'm cleaning out and scheduling them to do a pickup every couple of months!)
Cleaning out the old and making room for the new is like a breath of fresh air to me.
And I've learned over the years that's how it is when we clean out the clutter in our hearts too. The hurt, disappointment, doubt, anger, resentment, regret, shame, or guilt that some of us hold onto can keep us from living the lives we were meant to live, yet sometimes we manage to cling to these feelings for years.
Maybe it's too painful to "go there" so we avoid it.
Maybe it's easier to stuff our feelings away, minimizing them or convincing ourselves that they aren't that big a deal… or that they aren't even real.
Maybe we don't even realize the clutter is there…
Maybe we have a short fuse with our family… and we don't realize it's the past hurts from our childhood that are behind the anger or frustration.
Maybe we have a hard time with friendships or we push people away… because, deep down, we aren't sure if others would love us if they knew our secrets.
Maybe we are bitter in our relationships… and we aren't aware that it's the heartbreak we've known in the past that is causing us to put up walls.
Or maybe we put a lot of energy into appearing perfect and happy… because we don't know how to be vulnerable or are scared of what people would think if we were real.
Whatever it might be for you (because we all have something, whether big or small, to "clean out"), holding onto clutter can hold us back and cause us to miss out on opportunities, joy, and life.
And sometimes, "going there" is the very thing we need to do to launch us into our future. (It's so much easier to fly without heavy baggage straps on our shoulders!)
So, as we look toward the New Year, I invite you to take some time, reflect on what you're keeping tucked away in your heart, and talk to at least one trusted person about things that might be holding you back. Sometimes, the very things we fear sharing the most are the ones that God wants to use to change our lives, and the lives of others.
In fact, it's often our biggest piles of clutter that can become the most significant blessing. Our worst mistakes, deepest secrets, and biggest challenges can actually end up being the brightest opportunities, because they equip us in a unique way to reach out to others and make an impact.
When Salvation Army comes to my house after each clean-out, they don't keep my things for a while then return them. They take them away–forever–and then use them for the good of others. My clutter becomes a gift to someone else.
And that's what God does with the clutter in our hearts, if we have the courage to do some cleaning out. He takes it and transforms it with His truths so that our experience becomes a gift to someone else. (I love the quote, "Our past should be a springboard, not a hammock.")
So set your clutter at the foot of the cross in 2013, my friends. Then leave it there.
Because He has the power to take what is cleaned out and turn it into a brand new gift.
"And you will know the truth, and the truth will set you free." – John 8:32