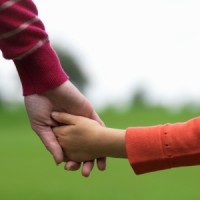 "But Jesus said, "Let the children alone, and do not hinder them from coming to Me; for the kingdom of heaven belongs to such as these." Matthew 9:14
When my daughter Grace was 4 1/2, I recorded a conversation we had about sin and heaven.
It's amazing how God can work on the hearts of little ones, and how God's teaching me even now to pause and rest, and catch Him working in these little moments… and in his little people!
This is the conversation that Grace had with me about sin.
Grace (4): "Sin is really bad."
Me: "Yes, it is."
Grace: "What's sin?"
Me: "Remember in the garden of Eden when Eve ate the apple she wasn't supposed to?"
Grace: "Yes."
Me: "That's sin. Sin is when you do something wrong. Like when you're mean to your brothers."
Grace: "Yes, that's sin." She thought for a moment, then, "What about doing what I'm supposed to?"
Me: "Now that's obedience."
It's funny how children can help you see things so clearly.
It made me think: am I doing what I'm supposed to? Am I walking in obedience today?