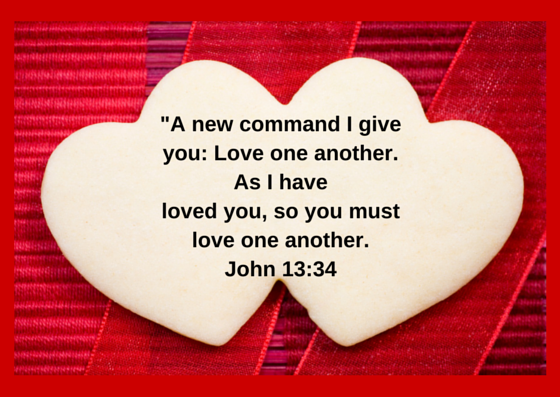 "And they came, bringing to Him a paralytic, carried by four men. And being unable to get to Him because of the crowd, they removed the roof above Him; and when they had dug an opening, they let down the pallet on which the paralytic was lying. And Jesus seeing their faith said to the paralytic, 'Son, your sins are forgiven." Mark 2: 3-5
In Mark 1:40-45 Jesus filled with compassion, touched the leper and he was healed. In Mark 2, Jesus returns to Capernaum. Jesus meets many at a house. Can you imagine the excitement to hear Jesus speak, to be touched, to see his penetrating eyes? The people pressed in to listen to what Jesus was saying, there was no room in the house even near the door.
Four friends convicted by the paralytic's plight were convinced Jesus would heal their friend. The paralytic lay on his mat discouraged as people walked past him on the way to meet Jesus. However, the friends were committed to the well-being of this man. With confidence as the plan unfolded, they said to one another, "If we do not help our friend who will?" These four men full of faith were compassionate, committed and convinced that only Jesus could heal their friend.
Upon arrival obstacles threatened success. The house was so crowded that the men could not get their friend to Jesus. Perhaps, another obstacle was that the people were so intent on their own needs that they had no desire to help this man. Beloved, there wasn't cooperation from the people but the paralytic had four friends who believed that Jesus was the answer. They knew God cared about every detail of paralytic's life. So with the man on the pallet they carried him up to the roof and dug a hole in the roof and lowered this man to the feet of Jesus. Jesus seeing the faith of the four healed the man spiritually, physically and emotionally.
What friend in your life needs your faith? Perhaps, there is an obstacle in your life paralyzing you preventing you from experiencing freedom, will you come to the feet of Jesus and accept His healing?
Father God, I pray for the beloved person that is reading this post, I ask that if she lonely, feeling paralyzed with fear that you would remind her in your word in 2 Timothy 1:7 that you did not give her a spirit of fear but of power, love and a sound mind. I ask if she does not have friends that today she will recognize you as her friend. For the woman who hurting will you heal her spiritually, physically and emotionally as you did the paralytic man. Lord fill us with compassion, commitment and conviction to serve one another in love.
You see, dear one, God cares about all the details of your life. 1 Peter 5:7 "Cast all your anxiety on him because He cares for you."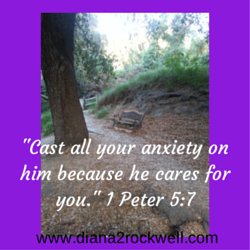 Now it's time for Faith 'N Friends Blog Hop
Top Posts from Week #10
The Powerful Grace of Rejoicing in Our Authenticity
@ Journeys in Grace by Dawn Boyer
Caught But Not Trapped In New Age Religion
@  Being Woven by Linda Gill
Seven Secrets to a Confident Woman
@ A Homemaker Mom by Suzie
Thanks so much to everyone who shared a link!
Welcome to the Faith 'N Friends Blog Hop #11
We're so glad you're here!
This is a place to share faith, make friends, and have fun.
If you've never done a blog hop before they are super easy.
Scroll to the bottom of the list and click the Add your link button.
Add the Faith 'N Friends button to your post or sidebar.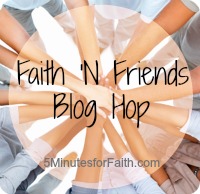 [inlinkz_linkup id=514544 mode=1]