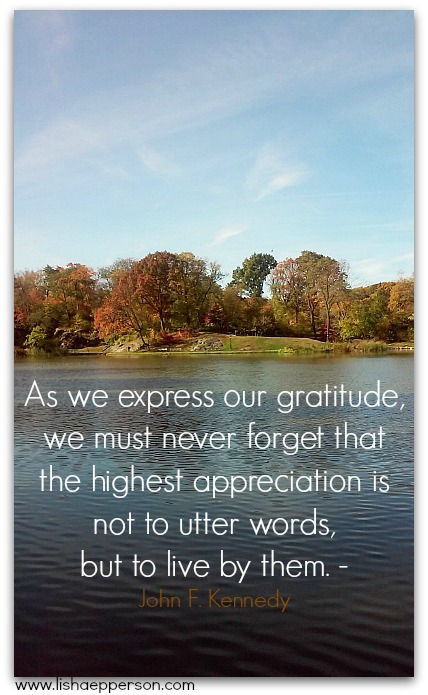 Let us be grateful to the people who make us happy; they are the charming gardeners who make our souls blossom."
― Marcel Proust
As we express our gratitude, we must never forget that the highest appreciation is not to utter words, but to live by them. – John F. Kennedy 
Every time you cross my mind, I break out in exclamations of thanks to God. Each exclamation is a trigger to prayer. I find myself praying for you with a glad heart. – Philippians 1 : 3-4 The Message
Wisdom waits. In my twenties, expressions of gratitude were measured by feelings of satisfaction with my life and goals. A typical gratitude list would've read like an entry from a trendy fashion magazine. I'd have been grateful for my hot new boots ( the ones I found on sale in Greenwich village, for $50 less than they sold for in Neiman Marcus). If pressed further, I might have expressed satisfaction over a professional accomplishment – the successful execution of a challenging piece of choreography. Or something practical, my pleasure in realizing a troublesome roommate moved out in the middle of the night. Eight dancers in a 3 bedroom apartment created the need for a lot of "situation" shuffles. Navigating the delights and pitfalls of a first apartment was interesting if not always easy.
Only then, after covering the "me and my world" head space of a young woman on the run would I have considered the basics.
Wisdom waits and maturity is her gift. Through grateful eyes I see how my list has changed. It's shifted to include more of the life and love around me. My life today is centered on the glimpses of God glory revealed through relationships. These days I'm thankful for the basics – friends and family, bright-eyed children…an enduring soul connection to my husband and a body I get to love to life through diet and exercise. Satisfying work and the boots on sale? Absolutely! I'm thankful for the gift of inspired work. A rocking pair of new boots on my feet, a feeling of bliss I won't easily forget. Because, oh how I do love a sale.
But it's easy to say I'm thankful. To rattle off words of gratitude rather than through disciplined devotion show appreciation for the people and things I love. Lately I'm working on living my thanks. I want to be intentional about gratitude and how it looks in my life.
I've realized large chunks of my days are saturated with time spent on social media. It reduces productivity and keeps me emotionally distracted. Time online shouldn't lessen the tactile, in your face experiences of a human being devoted to living and loving in real time. I don't want the people and things I love to get lost because my online world has eclipsed a life I cherish. And what of my health? What if the brilliantly designed body I've been given begins to rebel from lack of care? Extended time online perpetuates a semi-sedentary lifestyle. I know this sounds cliche but I've found it to be true " If you don't use it, you lose it."
I know social media has made possible, billions of connections. And I'd be among the crowd that argues the authenticity of online community and connection.Those connections are real. But I'd be remiss if I didn't admit our online world has a way of overshadowing the real one and sometimes, the people I'm charged with loving in the physical world get left behind. If I'm not careful the people and places I'm called to serve on the front lines of my life – suffer. I want my service to be a tangible expression of my love. Not just words. It's time to sift through the mess to get to the message.
So I'm thankful for my family…each day is an opportunity to love them well. I take that seriously. I pull the ones I love close to simply breathe in the pleasure of their presence. I work hard to listen for the unvoiced concerns of my husband and children. I serve with feeling and intention…mindful of the many ways I can express  love. Balance is key in this work/life equation. But if I have to choose I'll go with more life. I'll honor my family by limiting my online work and ministry  to defined blocks of time. I'll show gratitude by choosing them first.
My health, with an apology as an aside, because I manage to let that fall first when life gets busy. I've neglected sleep and the 30 minute cardio session I need to feel alive every day. Yet, dear body, I'm grateful for you. I'll breathe and eat with intention and relish the sacrament of rest. I'm grateful for the glorious choreography of life connecting and reconnecting me with the spirit in me that moves. I won't stop dancing.
And Holy Spirit…I'm grateful for you and receive this message. Your discerning, powerful, all encompassing truth is a lamp at my feet. Thank you.
We're going beyond words here. How do you live gratitude? What distractions keep you from expressing it to the people and things you hold close?