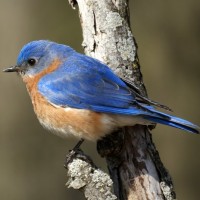 Written by Guest Contributor Holley Gerth.

She bows her head and thanks God for the birds outside the window. I think of little bluebirds formed from play-dough years ago.
She offers gratitude for the unusually warm weather, the wind in the trees. I think of a hundred barefoot days, green grass, picnics and play.
She whispers appreciation for beds to hold all of us, the blessing of being under one roof. I think of bedtime stories, covers tucked around me, kisses on my forehead.
She gives thanks for the little things.
She always has.
And as she does, I give thanks for her.
I think of how the little things are actually the big ones.
The moments and seconds that slip by when we hardly notice
turn out to be the jewels of life, the treasures we keep with us always.
And I think of you, too, a mama reading these words. What you're doing makes a difference more than you know. Even when the days blur by, when things are busy, when you feel unsure of yourself—know that you are a giver of love, a bringer of joy, and you're building a collection of memories that your children will keep forever.
The most important thing she'd learned through the years
was that there's no way to be a perfect mother
and a million ways to be a good one.
—Jill Churchill
A million little gifts. That's what my mother has given me. And they've added up to so much joy. That's why as Christmas comes close, the gifts on my mind aren't the ones under the tree. They're the ones scattered through the years, offered in unexpected moments, spontaneous grace, daily kindness, given with sweet, sacrificial love.
My Mom celebrates her birthday today.
My Heavenly Father celebrates His Son's birthday in a few days too.
Every good and perfect gift is from above,
coming down from the Father of the heavenly lights,
who does not change like shifting shadows.
James 1:17
I bow my head and thank God for LOVE, given, received, sent down, offered up, shared, treasured, passed on, remembered.
By the time I say "Amen" it seems Christmas has come to my heart again.
Guest Contributor Holley Gerth – cofounder of (in)courage, writer for DaySpring, author, counselor, chocolate lover, "y'all" user, wife of Mark, follower of Jesus, friend to YOU. Visit Heart to Heart with Holley.