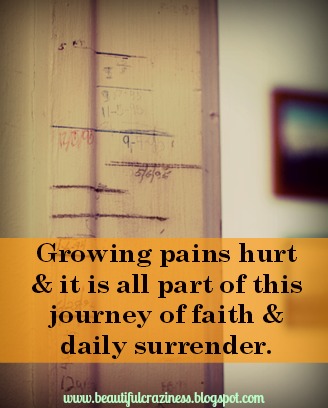 She comes in around 1 A.M. crying, "My foot hurts!" I rub her leg with oils, giver her some pain meds, pray for her, stroke her hair as she folds her little body into mine and finally rests.
Growing Pains
These past few weeks I have had growing pains.
My feet hurt from walking this walk of obedience.
My legs hurt from climbing this mountain of faith.
My arms hurt from carrying around loads that weigh me down.
My back aches from being stretched and pulled.
My head hurts from constantly captivating my thoughts, insecurities and fears.
When growing pains hurt, I want to just cry. They sting and burn and all I desire is to give up and give in to the hurt.
When growing pains hurt I wish someone world just take the pain away, soothe and hold me.
When growing pains hurt I wish there was some cure, some medicinal treatment that would take the pain.
Growing pains won't ever subside.
There are seasons of growth and it takes a while to bloom
We will never fully arrive or stop growing. God is always growing us. There will be times when our faith muscles are sore and there will be times when our muscles are stretched and pulled.
Growing pains hurt and it is all part of this journey of faith and daily surrender.
Surrendering all we have to Jesus is a daily walk.
It is arduous.
Lifting our hands in surrender to whatever He has for us is hard because in order to lift my hands, I must let go of the desires and plans and burdens I have such a tight hold on.
Yet, when I loosen the tight, clenched fist that is desperately holding on to what I think is best; I surrender and let go, fold myself into Gods hands and there, I find rest.
Finally, the burdens are lifted and the pain subsides and I am free.
When growing pains hurt, He gives me the strength and peace and rest to bear the journey.
I find comfort in His embrace and healing in His arms of Grace.
photo credit: RTD Photography via photopin cc